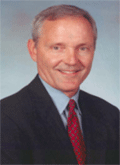 Thomas K. Dreessen, Treasurer
Thomas Dreessen, EVO's Past Chair, Chairman and CEO of EPS Capital, is a global expert in developing, financing and implementing savings-based energy efficiency projects (EEPs) at large end-use energy consuming facilities. His unique expertise to arrange structure project funding of EEPs stems from 35 years of developing or implementing energy efficiency projects in over 25 countries with ESCOs he formed and operated as CEO in 10 countries. He is one of the pioneers of the ESCO industry, having formed one of the first U.S. ESCOs in 1981 and served as the President of its industry association, the National Association of Energy Service Companies (NAESCO).
Mr. Dreessen created and implemented a new EEP Loan Product for the savings-based financing of EEPs by banks in Indonesia and Jordan. He is also using local project companies as intermediaries to aggregate the funding and implementation of EEPs, resulting in reduced transaction costs, reduced investment risk and increased IRRs.
Mr. Dreessen's past efforts include the creation and conducting of EE finance training workshops around the world based on the International Energy Efficiency Financing Protocol ("IEEFP") that he developed for the Efficiency Valuation Organization (EVO) and published by EVO in April 2009. The IEEFP is a blueprint for training financiers how to evaluate the benefits and risks of financing EEPs from savings that they generate.
Mr. Dreessen holds a BBA in Accounting, a MBA in General Business, and a Certified Public Accountant certificate. He is a past President of NAESCO and is a recently-retired 14-year Board member of the Alliance to Save Energy.