A Fresh Look for the 2016 IPMVP® Core Concepts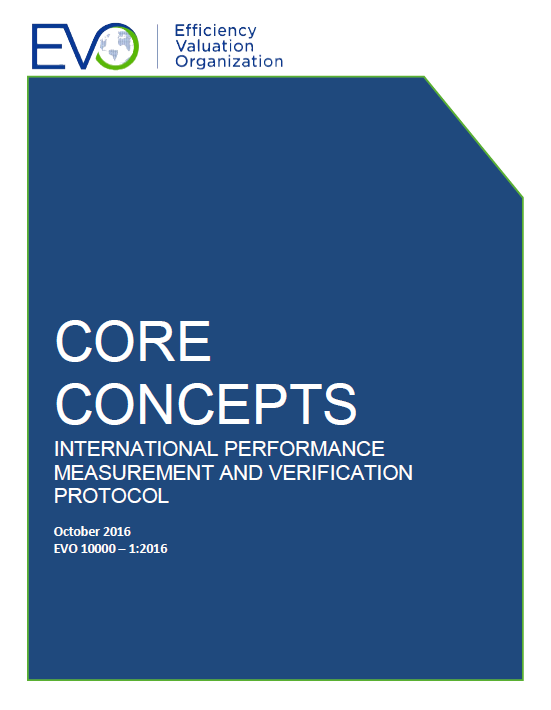 EVO released today a reformatted version of its 2016 Core Concepts. The content of the document remains the same as the version published in May 2016. However, the format has been renewed and improved to facilitate consultation and ease of references. Please log-in your subscriber's account to access the new document. If you do not have an account, you may chose a subscription plan by clicking here.
The latest version of the Core Concepts and Application Guides are premium content for a period of 6 months after their publications for EVO's web subscribers. The Core Concepts document is currently being translated in Italian, Korean, Spanish and French. If you wish to volunteer to be a translator of EVO material, please contact Desislava Borisova.
Three application guides are now scheduled for release: Renewables (October), M&V Applications (November), Statistics & Uncertainy (December).
(Posted October 13, 2016)
New EVO Thematic M&V Training: Using ISO 50015 with the IPMVP
First On-Line Session October 18, 2016

After running successful pilot sessions ealier this year in the UK, EVO is pleased to announce the deployment of a new EVO Thematic M&V Training Course. The course covers the new ISO 50015 M&V guidance standard and how to use it in conjunction with the world's most widely used Protocol, the IPMVP with minimum duplication effort. Tools and templates are provided post course to all the attendees. Please note that a copy of the standard itself is not provided. This is an on-line course being run over three consecutive weeks: Tuesday the 18th October, Tuesday the 25th October and Tuesday the 1st November, 2016. Click here for more details and access the course registration site.
(Posted October 1, 2016)
EVO Executive Director to speak at an M&V Workshop in Paris
This one day conference organized by EDF Optimal Solutions and IFS2E will focus on Tools and Methods to Guarantee Energy Performance. Denis Tanguay, EVO's Executive Director will present a brief summary of EVO's new strategic orientations and discuss EVO's priorities with regards to France and Europe. Click on the image below to access the conference program.

(Posted October 1, 2016)